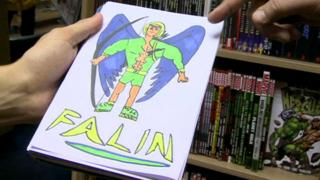 Design your own superhero
This year is going to be huge for superhero movies with Batman and Spider-Man back on the big screen.
And the biggest team-up in cinema history also takes place in The Avengers Assemble.
Joe's been invited to meet the stars of the movie next week but he needs your help.
He'd like you to design your own superheroes.
He'll then take your pictures with him and ask the real Captain America, Thor and The Hulk what they think!
So get your drawingpads out and take a picture or scan your designs and email them to newsroundpix@bbc.co.uk
If you send us a picture, it may be published on the Newsround website, and some pictures may be used in our TV bulletins. We'll use your first name and your home town to show that it's your design; your personal details won't be used for anything else.
More entertainment stories