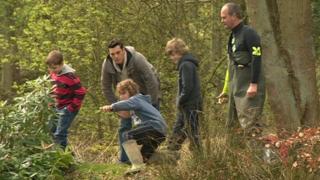 50 things to do before you're 11 ¾
Have you ever cooked on a campfire, set up a snail race or caught a butterfly in a net?
Well according to The National Trust you should have done!
The organisation has put together a list of the 50 things every kid should do before they turn 11 and three quarters.
They released the booklet because a third of children have never climbed a tree and they want to encourage more of you to get outside.
The National Trust looks after lots of Britain's countryside, coastline and historic places.
As well as making this list they are also opening up a lot of their woodland and estates for free next weekend.
Watch the video above to find out how Joe got on trying out some of the activities.