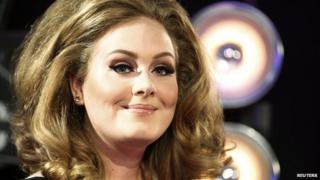 Reuters
Singing star Adele has topped the list of richest young musicians in the UK.
Last year, the 22-year-old singer was said to be worth £6million, but with rocketing sales of her album 21 she's now got about £20million.
Coming in second place together are Cheryl Cole and Leona Lewis, each with a fortune of £12million.
And it's mainly women in the top ten - only two male musicians, Craig David and Paolo Nutini, managed to get a look in.
Other female musicians doing very well for themselves are Charlotte Church (£8m), Florence Welch (£7m) and Lily Allen with £6m.
Richest young actors
The men start doing a bit better when it comes to the richest actors though - with Harry Potter star Daniel Radcliffe topping the chart with a massive £54m.
Daniel's Potter co-stars Emma Watson (£26m) and Rupert Grint (£24m) haven't done badly from the wizarding films either - but they're way behind Twilight star Robert Pattinson, who's the second-richest actor with £40m.
The list is published by The Times newspaper and names the wealthiest UK celebs aged 30 and under.