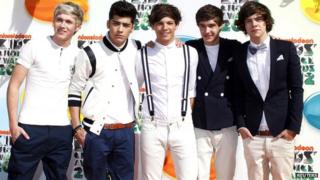 Reuters
One Direction are being told to change their name by an American band with the same name.
The "other" One Direction, from California, say the UK band used the name without asking permission first.
They are demanding the 2010 X Factor finalists pay them a huge share of the profits from their music sales.
The American group claim they've been using the name One Direction since 2009, and have recorded two albums under the name.
They say that Simon Cowell found out that there was another One Direction last year, but didn't do anything about the problem.
The UK group, who were put together on The X Factor in 2010, recently made chart history in America.
Their album Up All Night went straight in at number one on the Billboard chart in March.
It makes them the first British band to top the US chart with their debut album.