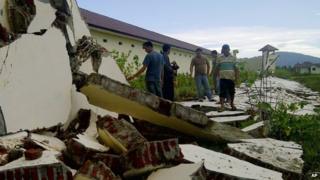 AP
Warnings that powerful earthquakes off the coast of Indonesia could cause a tsunami have been lifted.
Lots of people living in the country fled their homes in case the quakes triggered massive waves.
There are reports of some buildings being damaged by the earthquakes and power being cut in some areas.
India, Thailand and Sri Lanka have also lifted their own tsunami warnings.
There are a lot of earthquakes in the area. In 2004, one caused a tsunami that killed around a quarter of a million people.