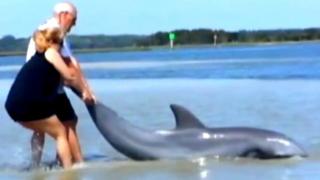 Family's dolphin rescue mission
An American family have rescued a stranded dolphin from shallow water and set it free.
Without their help the dolphin could have died after the tide went out.
But they remembered seeing other footage of dolphins being rescued by dragging them back into the water.
"She was very heavy and very strong," said Kerry Ware, whose son filmed the video.
"If it had been any later, we wouldn't have been able to pull her out on sand alone."
"It was such an amazing experience," she added.