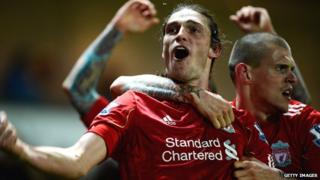 Getty Images
Ten-man Liverpool grabbed a 3-2 victory at Blackburn, their first win in five games. It dashed Blackburn's hopes of climbing out of the relegation zone.
They went 2-0 up but errors by sub goalie Doni made things tricky.
After Reina's red two weeks ago, Doni brought down Blackburn's Junior Hoilett and was sent off.
With another substitute Brad Jones in goal, Liverpool let in two before Andy Carroll's 94th minute header made it 3-2.