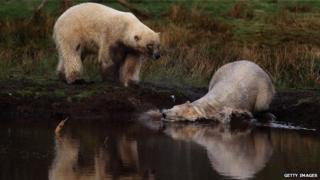 Getty Images
We all know it can be tough being the new kid.
So the keepers at the Highland Wildlife park in Scotland are really happy that their new polar bear, called Arktos, is settling in so well.
Arktos was flown over from Germany to join the park's famous polar resident, called Walker, last week.
Until now Walker was the only polar bear on public display in the UK, but he seems happy to have a polar pal!
Keepers were worried that the bears might not get along when they were first introduced. Young polar bears are known to be quite aggressive with other bears.
But Douglas Richardson, who looks after the animals, said that the new bear is "great company for Walker.
"Arktos will provide companionship, greater enrichment and stimulation - which will enhance Walker's suitably complex lifestyle."
The bears will now share a five acre enclosure with their own pond big enough for two. There should be plenty of space for morning runs and afternoon wrestles!