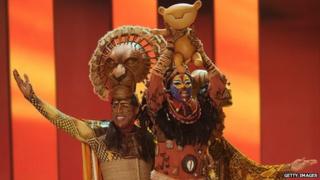 Getty Images
The Lion King musical has broken Broadway history.
The stage show based on the famous Disney musical has become the highest earning production in the famous New York theatre district.
Since the show first opened in 1997 it has made a whopping £536.7 million.
It's beaten the previous highest earner on Broadway, Phantom of the Opera, with £536.3 million. But Phantom's still the longest running Broadway show with over 10,000 performances.
Some critics have said that the key to The Lion King's success is that it charges higher ticket prices and performs in a bigger theatre than some of its rivals.