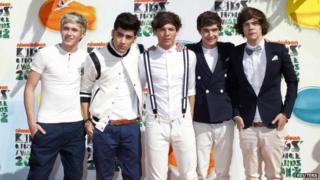 Reuters
It's a pop fan's dream - One Direction and Justin Bieber in the same room...
Well, guess what - the boys have been hanging out! The Biebster invited 1D to his studio for a listen of his new album, Believe.
Niall tweeted on Thursday: "In the studio with our boy Justin Bieber last night, it's gonna sound great!"
That sparked rumours of a duet, but Liam said afterwards in a TV interview: "I don't think there's any collaboration on the cards."
Liam called Justin a "nice guy" and tweeted this about Justin's new album: "Wowww big songs!!! It's gonna be a smash... Expect the unexpected."
Justin replied: "Thanks buddy. Good chilling with you guys."
One Direction's album went to straight to number one in the States last month - they're the first British group to ever do so.
The group are in New York at the moment, getting ready to perform on one of America's biggest TV shows, Saturday Night Live.
Fans have been camped out for days to catch a glimpse of the boys!