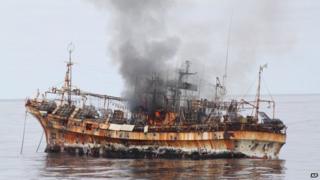 AP
A derelict Japanese 'ghost ship' that drifted across the Pacific Ocean has been sunk by US coast guards.
The Ryou-Un Maru was washed out to sea by the tsunami in Japan last March, and it ended up about 200 miles from Alaska.
An American patrol boat fired cannon to make holes in the fishing vessel, so it would take on water and sink.
Coast guards were worried that it would be a hazard to other ships.
The 'ghost ship' had no crew on board and no lights or power.
It burst into flames and sank five hours after being shot at.
It's thought around four to eight million tonnes of debris were washed into the ocean after the Japanese tsunami.