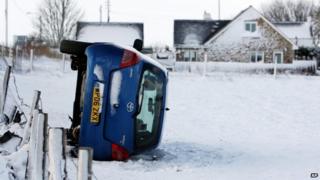 AP
A spotter helicopter is searching for damaged power lines hit by Tuesday's wintry storms.
Around 1,700 people are still without power in north-east England and Yorkshire.
Engineers have restored electricity to about 78,000 homes in the areas already, and they're hoping the remainder will be reconnected on Thursday.
Up to 20cm of snow fell in some parts of England.
A spokeperson for Northern Powergrid said that power lines were brought down by the weight of the ice formed on them.
Forecasters reckon there won't be any more bad weather to come, but that the chilly temperatures will continue.