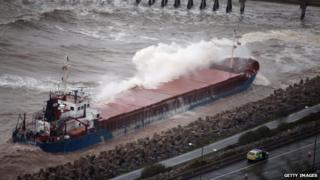 Getty Images
Environment officers are still working on safely removing oil from the ship that hit a rock in rough seas off the north Wales coast.
So far only a small amount of oil has leaked from a cargo ship and its main fuel tank is still in one piece.
They're hopeful that the accident won't cause any significant damaged to the local environment.
Llanddulas, where the ship is stuck, is a special conservation area for sea birds.
Environment Agency officers have been checking local beaches for any signs of oil but so far haven't seen anything to be worried about.
Sea birds rely on their feathers both for warmth and to keep them afloat - so even a small amount of oil could be very harmful if it gets clogged in their feathers.
The boat was attempting to leave a jetty in Colwyn Bay to go back out to sea but strong winds forced it back towards the shore where it became stranded.
The bad weather conditions meant it took almost five hours to rescue the seven crew members on board.