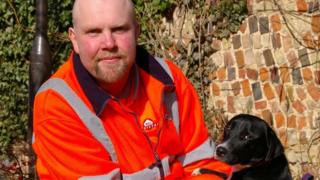 An abandoned dog left dumped in a bin has found a new home with the man who rescued him.
Jason Bloomfield found Dusty while emptying the roadside bins in Suffolk.
The council said he had to wait for 30 days to see if the dog's owner would come forward, but nobody did.
Now Jason will adopt Dusty as his pet.
Jason said: "It's only been a month but he's settled in and doing really well."