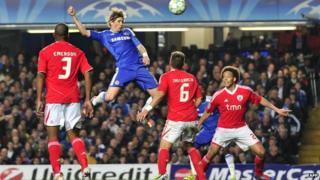 AFP
Chelsea have secured their place in the last four of the Champions League after a 2-1 win against Benefica in the second leg.
The Blues went into the game with a 1-0 lead from the teams first leg meeting.
Frank Lampard's early goal, followed by a red card for Benefica's Maxi Pereira taking the side to ten men, made the match look easy for the home team.
Chelsea will now face Barcelona giving them a chance to replay their controversial 2009 semi-final loss.
Temporary manager Roberto Di Matteo is looking forward to the next round, he said "It will be exciting to play two games against probably one of the best teams in the world".