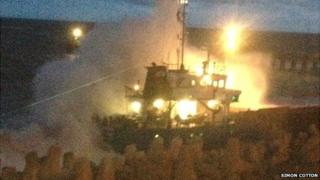 Simon Cotton
Oil has leaked from a cargo ship that hit a rock in rough seas off the north Wales coast.
The vessel is carrying 40,000 litres of fuel on board and there are worries it could threaten wildlife in the area.
Coastguards are working as quickly as possible to remove fuel from the ship near Colwyn Bay.
Seven crew members were dramatically rescued from the Carrier ship when it ran aground on Tuesday night in gale force winds.
Several lifeboats were launched but severe weather conditions made it difficult for them to reach the crew.
A search and rescue helicopter managed to winch five men to safety before its winch broke during the operation.
Another helicopter was called in to rescue the remaining two crew. All of the men escaped unhurt.
The boat was attempting to leave a jetty in Colwyn Bay to go back out to sea but strong winds forced it back towards the shore where it became stranded.