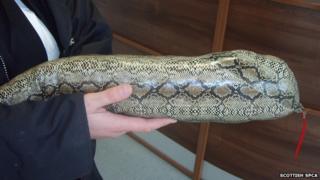 Scottish spca
This snake-like draught excluder caused a big fright when a woman mistook it for a real snake, and called out animal rescuers.
She spotted the 1.5 metre long 'creature' in the loft of her new home.
But when Scottish SPCA officers got there, they found it was actually a green and black draught excluder complete with red felt tongue!
The 'snake' has been named Sid and taken to their Aberdeen rescue centre where it's keeping the office warm.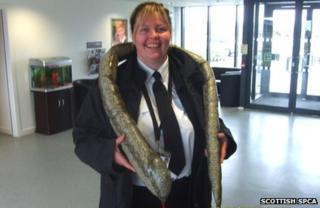 Scottish spca
Animal rescue officer Karen Hogg said: "We've rescued hundreds of snakes from properties in all sorts of unusual circumstances, so we had no reason to believe this might not be the real thing.
"I'd brought gloves and a pillow case to enable us to handle and contain the snake safely, but as soon as we spotted it we realised the equipment wouldn't be necessary."