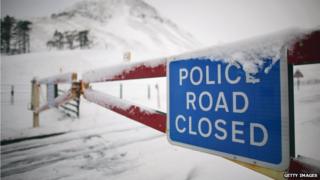 Getty Images
Sandcastles have been swapped for snowmen after 10 inches of snow has fallen in Aberdeenshire.
Just a week ago, Aberdeen had the warmest March day on record with temperatures 10 degrees higher than normal.
Now snow covers the ground and the new spring lambs are looking rather confused.
In the Highlands, some roads were closed due to the heavy snow.
3,000 people have been left without electricity after power lines were damaged.
The school holidays mean that there are fewer cars on the roads, but conditions are still dangerous and pavements may be slippy.
There's some good news for skiiers though, as the Cairngorms are coated in the white stuff.
We asked you how the weather was where you are and here's what you told us:
Your Comments:
"In Consett, County Durham there is at least 5 cm of snow. On the weather it says it is 1C but it feels like -10!"
Nathan, 10, Consett, England
"Last week I was getting the deck chairs out and this week I'm getting my sledge out the snow is that deep!"
Laura, 12, Aberdeenshire, Scotland
"I am going to Aberdeen on Thursday and I now need to unpack my suitcase because it has summer stuff in it! :("
Lucy, 11, Cambuslang, Scotland
"I never thought it would snow in April! It's cool, and fun, but it causes trouble for some people."
Isabelle, 11, Scotland
"The snow in Dundee is really bad. I can't believe the weather has changed so quickly. Typical Scottish weather!"
Abbie, 12, Dundee, Scotland
"This morning I woke up to snow and lots of it. It's been snowing on and off all day I just hope it goes away soon 'cause I'm going to the theatre on Friday and a party on Sunday."
Devon, 11, Edinburgh, Scotland
"I live in Aberdeenshire and it was the hottest place in the UK last week! It's a very big change and the snow is very deep!"
Helina, 11, Scotland
"All this snow has made me unwell: I have a sore head and a blocked nose, I wish the sun would come back!"
Brooke, 11, Livingston, Scotland
"I have made 11 snowmen today at my local park and I have just come home and am drinking a fine hot mug of hot chocolate."
Rebecca, 10, Macduff, Scotland
"Last week I was sunbathing in the garden, playing out with friends and going on my bike to buy a strawberry ice cream... but now it's freezing and it's raining really hard!"
Monica, 9, England
"Just before the Easter holidays it was beautiful. Now it's all cold and it's started to rain. I miss the sun."
Zainab, 10, Preston, England
"The snow here is terrible! It's really cold and we can hear thunder!"
Harry, 13, Cumbria, England
"Last week it was really nice and warm and me and my two sisters were sunbathing in our backyard. Now it's been raining, cold and miserable making me wrap in 10 layers. I miss the sun!"
Radhika, 13, Leicester, England
"I'm gonna get my sledge ready!!"
Hollie, 11, Telford, England
"There's no snow here just now but it's freezing and it's raining really hard!"
Megan, 11, Falkirk, Scotland
"It was really hot last week, I must've eaten about 20 ice creams. Now it's raining and horrible, where did the weather go?"
Abby, 14, Preston, England