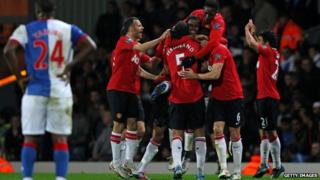 Getty Images
Manchester United have secured their position at the top of the Premier League.
The Reds beat Blackburn Rovers 2-0 at Ewood Park last night with two late strikes.
The home side came closest to scoring in the first half, only to be stopped three times by goalkeeper David de Gea.
The United fans were kept in suspense for a full 80 minutes, as the goals didn't come until the final 10 minutes of the game.
Scorers Ashley Young and Antonio Valencia gave the crowd something to celebrate, putting the team five points clear of their rivals Manchester City.
Sir Alex Ferguson said the win was for the fans. The result puts Blackburn back in the relegation zone.