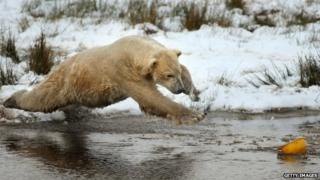 Getty Images
Walker, the UK's only polar bear on public display is to get a new playmate.
Arktos, a four-year-old male polar bear will be arriving on Wednesday at the Highland Wildlife Park in Scotland all the way from Germany.
He'll have time to settle in to his new surroundings before meeting three-year-old Walker for the first time.
Walker may have to get used to sharing his favourite toy, a plastic hard hat, with the new boy.
Polar bears are not usually sociable animals in the wild, but in captivity a friendly chum can be a good thing for them.
The wildlife park is also welcoming a new young tiger called Marty - they hope he'll breed with one of the female tigers at the park.
Visitors will be able to see both Marty and Arktos shortly after their arrival.