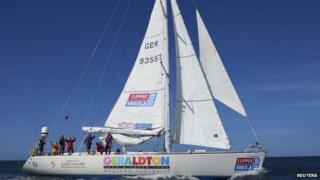 Reuters
Two British sailors have been rescued after their yacht was hit by a huge wave.
They were taking part in a race around the world when they were caught in a storm in the Pacific Ocean, 400 miles off the coast of California.
The US Coast Guard planned to airlift the sailors but the yacht's tall mast meant this was difficult and they were moved by boat instead.
In total, four sailors on board the Geraldton Western Australia, were hurt.
The two other crew are likely to remain on board the yacht until it docks in San Francisco Bay in the next two days.