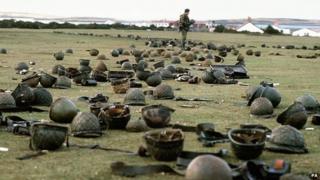 PA
Today marks the 30th anniversary since the start of the Falklands War.
Services to remember those who died will be held in the UK and in Argentina.
War broke out between the two countries in 1982 after Argentina invaded the Falkland Islands in the South Atlantic in 1982.
About 250 British and 650 Argentine troops died during the three months of fighting.
The anniversary comes at a time of tension between the two countries.
Britain have controlled the Falklands since 1833, and the people who live on the islands consider themselves to be British.
Argentina, who call the islands the Malvinas, believe the Falklands belong to them and were inherited as part of the Spanish Empire.