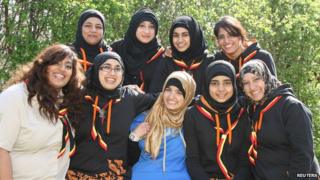 Reuters
For the first time in the history of the Scout Association has more girls are joining up than boys.
At the moment there are over 66,000 girl scouts in the UK.
There's also been a rise in the number of Muslim young people joining groups, with around 2,000 new members.
The organisation have launched a new uniform for Muslim girls to wear, after requests from some community leaders. They'll now be able to wear hoodies or t-shirt dresses to meetings.
Both of the new items are knee-length and are covered in bright graphics based on the different scout badges.
The new clothes are available to all girl members.
Aamena Ismail, 12, a scout from London, said: "This dress hoodie is a fantastic idea. As a Muslim girl in scouting I feel more comfortable in it, but it's still practical and I can even wear it abseiling."