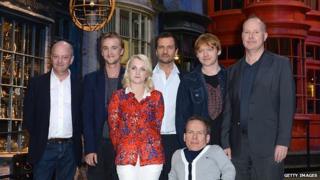 Getty Images
The Harry Potter studio tour isn't open to muggles just yet - but the stars of the films have been having a sneaky look around.
Rupert Grint said it was good to see it all again as "every set and every prop is embedded with our ten years of memories".
The Ron Weasley actor says he doesn't watch the old films from the series.
He said: "It's still very hard for me to watch myself gradually grow up, it's a very surreal thing."
As part of the tour visitors get a chance to ride on the broomsticks but Rupert reckons they've made them "a lot more comfortable" than the ones the cast had to use!
He said that it was a bit strange seeing his old Gryffindor bedroom as part of the attraction.
The best part - for him it's still the Great Hall: "It's really special, it's hard not to be taken aback when you walk through the door".
The Harry Potter Studio Tour at Warner Brothers Leavesden Studios, near Watford, opens to the public on Saturday but tickets for the attraction have already sold out for every weekend for the next three months.