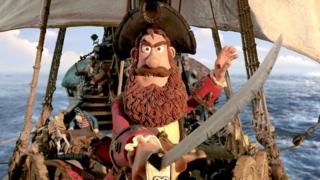 Sony
Here's Joe's review of the latest animation from Wallace and Gromit creators, Aardman.
Pirates! In An Adventure With Scientists is a 3D action adventure from famous British film makers Aardman. These are the guys who make Shaun the Sheep on CBBC and big animated movies like Chicken Run.
In this movie they use the same stop frame animation techniques as those other hits which is a painstaking process of moving each clay character bit by bit and taking photos as they go. It took them a week to film just five seconds!
When's it out?
It's in cinemas right now and rated U so yes, "U" can see it!
The Plot
Pirate Captain is the not-very-successful leader of a not-very-successful band of pirates. He decides to enter a big competition to become the famous Pirate of the Year to prove to the other captains that he is the best.
As he attempts to steal gold from another ship he comes across a geeky scientist called Charles Darwin (you know him!). Darwin is amazed to see that Pirate Captain's parrot is actually a dodo so convinces him to travel with him to London and show it off to other scientists for a big cash prize.
So the pirates set off on an "adventure with scientists" hoping it'll help win the Pirate of the Year contest - but it all goes a bit wrong!
Who stars in it?
Loads of big names voice the characters! David Tennant plays Charles Darwin and is very funny, Martin Freeman who is Watson in the BBC's Sherlock show plays Pirate Captain's second in command - he's the clever one. And Pirate Captain is brilliantly voiced by Hugh Grant who your parents will know!
Hit or miss?
Hit! It's quite a short movie but crammed full of funny jokes that you'll enjoy and also some for your parents as well.
The characters are very silly and have weird names like Pirate With Gout and Peg Leg Hastings. As our heroes attempt to become the best pirates on the seas they mess up and most fights and chases end with lots of mess and mistakes.
The animation is also really good and the 3D really jumps out at you - especially at the beginning when Pirate Captain stabs towards the camera.
The only bad thing is that it is very short which is a shame but that will leave you wanting more and we're betting there will be a sequel!
Here's a challenge for you - spot the Blue Peter badge on one of the pirates' hats!
NR rating: 4 out of 5