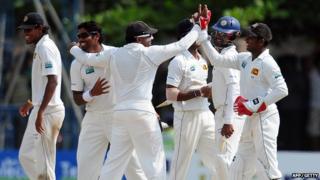 AFP/getty
England's bad cricket winter continued with a loss against Sri Lanka.
After a good start chasing 340 to win the first Test, Jonathan Trott's century even gave the side some hope of reaching their highest-ever run chase.
But it wasn't to be - the side collapsed as they lost six wickets for just 31 runs and gave Sri Lanka a 75 run victory.
So far in 2012, the England boys have lost every Test match they've played - three against Pakistan, and this match.
The side are still ranked number one in the world rankings but they'll have a bit of work to do if they want to stay there.
The losing streak is being blamed on the side's batsmen: so far Trott is the only player to score over 100 in a Test this winter.
Man of the match Sri Lankan bowler Rangana Herath took six wickets in England's second innings, 12 wickets in all during the match - a feat none of the England bowlers could close to.
Jimmy Anderson managed five wickets in the first innings but none in the second; while Graeme Swann took six wickets in the second innings but none in the first.
The second Test starts in the Sri Lankan capital of Colombo on Tuesday, and already experts are saying that different batsmen should play.