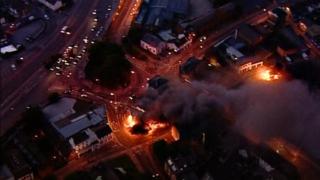 Who is to blame for summer riots?
Ever since last summer's riots, a panel of experts has been looking why young people took part.
The members spoke to communities affected by the riots to see what they thought the causes were.
Their report suggests that schools and families are to blame for not giving enough support to children and teenagers.
It also says that social networks such as Facebook and BBM made the riots "worse".
The experts also say that schools need to play a bigger role in helping children to become better adults.
It suggests that schools which don't teach their pupils proper reading and writing skills should be fined.
But Brian Lightman, General Secretary of the Association of School and College Leaders, said fining schools would only "Add further to the problems they faced."
Around 15,000 people are thought to have taken part in the riots which happened in cities across England.