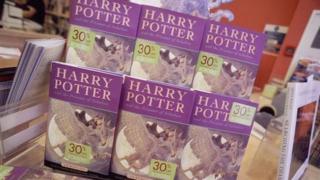 Electronic editions of Harry Potter books have gone on sale for the very first time.
They're available to buy on JK Rowling's website and are cheaper than the traditional book versions.
Ebooks have to be bought online and then downloaded to a reading device.
They'll be advertised on websites like Amazon but can only be bought directly from the Pottermore website.
The ebooks cost £4.99 or £6.99.
These are only a couple of pounds cheaper than the book versions and Pottermore say this is so people don't stop buying paper books.
The Harry Potter ebooks are also different from others as you can download them to several devices, whereas other ebooks normally only work on one device.