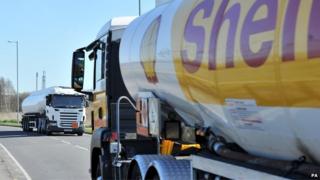 PA
The government is warning car drivers to top up their petrol tanks to prepare for a strike by tanker drivers.
Drivers are unhappy with pay and working conditions and are threatening to stop delivering fuel - which could lead to shortages.
The government has said topping up on fuel would be a "sensible thing" to do but also that there is no need to queue up to get it.
Some petrol stations are already experiencing shortages, though.
Officials are working on an emergency plan to get fuel delivered if the strike goes ahead.
Royal Air Force drivers might be used to make some deliveries.
The tanker drivers haven't decided when the strikes will take place but they could be as soon as the Easter holidays.
The last time a major strike happened was in 2000, when many petrol stations ran out of fuel.