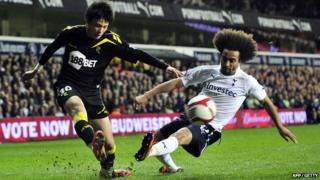 AFP/getty
Tottenham will now have to face Chelsea in the FA Cup semi-finals after beating Bolton Wanderers.
After a goalless first half three second half goals secured the win for Spurs.
Bolton were only able to fight back with a late goal putting the final score at 3-1.
The game against Bolton was a replay of the quarter final which was abandoned after Fabrice Muamba collapsed on the pitch.
It was an emotional return to White Hart Lane for the Wanderers - many of them visited Muamba in hospital before the game.
Bolton manager Owen Coyle said that Tuesday's return to White Hart Lane had been "emotional" but thanked Spurs for their support.
He told journalists that "We have been truly humbled by the care and concern shown by everyone at Tottenham for Fabrice".