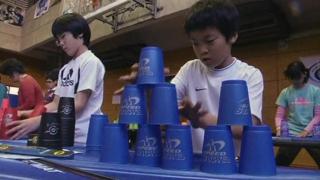 Cup stacking fever hits Japan
It's not a sport that most people will play but stacking fever has taken over in Tokyo, Japan.
Over 100 people aged from four to 83 competed to stack a set of 12 cups in a pyramid in the quickest time.
They were allowed to work in a team or on their own. Some children even teamed up with their parents to try and win.
Organisers of the Sport Stacking competition say it teaches hand-eye coordination and uses as much energy as bowling or volleyball.
The stacking champion was teenager Sota Takamori who stacked the cups in 1.98 seconds and he's now qualified to take part in the World Stacking Championships in Germany in April.
The cups are specially designed for the competition so make sure you don't try it at home.