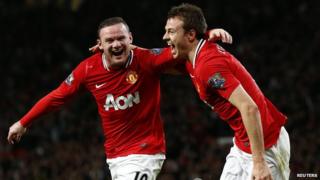 Reuters
Manchester United are back at the top of the Premier League after a 1-0 win against Fulham.
The win takes them 3 points clear of rivals Manchester City who are suffering after a slip up against Stoke at the weekend.
Wayne Rooney was the only scorer of the match - notching up his 29th goal of the season.
It was a nervous watch for both team's fans, especially after Fulham missed out on a penalty in the 87th minute.
With just eight more games to go until the end of the season United are back in a good position to retain their Premier League title.