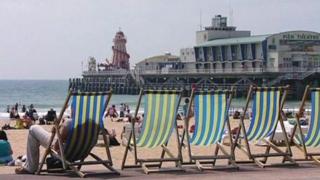 Summer time has arrived early
It looks like summer has arrived early in the UK with record-breaking temperatures in Scotland over the weekend.
It got as hot as 22.8C in Aberdeenshire on Sunday, beating the last record temperature for March of 22.2C in 1965.
It was really warm all around the UK, and beaches and parks filled up with people looking to make the most of the sunshine.
And it's not over yet.
Weather forecasters say the sun is going to stick around for most of the week.
Plus, the clocks went forward this weekend meaning we get an extra hour of daylight in the evenings as well.