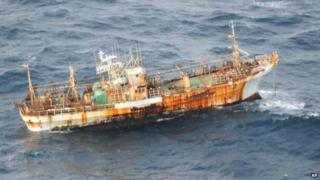 AP
A Japanese 'ghost ship' has been spotted off the coast of Canada.
The fishing boat was swept away by the tsunami in 2011 and has been slowly drifting across the Pacific Ocean.
Japanese officials don't think that these is anyone onboard the vessel.
Experts think that it is the first large item of around 25 million tonnes of debris to cross the ocean as a result of the earthquake and tsunami - but most of it isn't expected to reach North America until 2014.