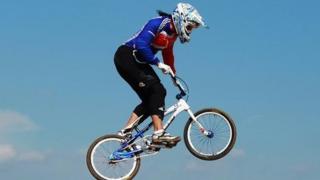 Hayley chats to Shanaze Reade
BMX star Shanaze Reade says the World Championships are going to be nerve-wracking but will help her prepare for the Olympics.
Shanaze is the UK's best female BMX rider and has lots of world titles under her belt.
She's looking forward to the Olympics this summer but before that she's got the BMX World Championships to test how she's going.
So Shanaze is training hard - two times a day, six days a week, but she says that's what it takes if you want to win medals like she does.
Hayley's been to meet Shanaze and even tries to race the BMX star! Let's see who wins...