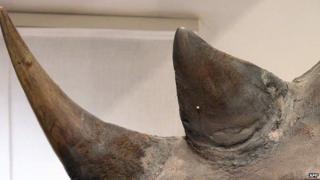 AFP
Police in the German town of Offenburg have arrested a British man who they think helped steal rhino horns worth over £40,000 from a museum display.
The theft happened in February and is one of a number of similar crimes across Europe in recent months.
During the robbery, two people distracted museum staff while two others climbed into a display case and knocked the horns off a rhino head.
It's the latest of a series of similar thefts across Europe.
Offenburg police said that they arrested one British man and are speaking to two other British men in connection with the robbery.
The men were found at the end of February in the city of Munich, when police stopped them for driving a car reported stolen in the UK.
When police looked at a sketch of one of the suspected rhino horn thieves, they noticed a similarity and made the arrest.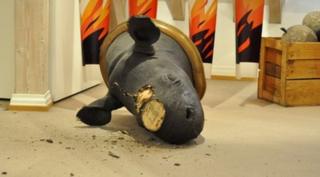 AFP
Robberies across Europe
Museums across Europe were warned last year to be on their guard as a series of similar rhino horn robberies took place.
Displays in France, Germany, Austria, Italy, Portugal and the UK have been targeted by criminal gangs.
Some museums have taken the precaution of replacing real horns in display pieces with fake plastic ones.
Just last month, robbers at Norwich Castle Museum, in Norfolk, were stopped in their tracks by staff.
Illegal horn trade
Rhino horn is traded illegally on the black market because some people think it can be used to treat illnesses.
But scientists say that this isn't true and that the horns can't cure disease.
The price that people will pay for rhino horn has gone up a lot in recent years: horns can fetch between £22,000 and £175,000, depending on their size.
The number of rhino killed for their horns in South Africa has reached record levels in recent years as demand for the items has risen.
In August 2011 the UK government announced it would lead a worldwide campaign to educate people on why they shouldn't buy rhino horns.