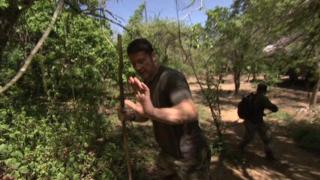 Steve Backshall hunted by dragons
Deadly 60 presenter Steve Backshall says he was taken by surprise when he witnessed a quick change in behaviour from a group of Komodo dragons.
He told BBC Breakfast it was the fourth time he has filmed with Komodo dragons but this experience was "genuinely frightening".
His new series examines extremes in the animal world.
Deadly 60 will be shown on CBBC from Monday 26 March at 7.30am and 4.30pm.