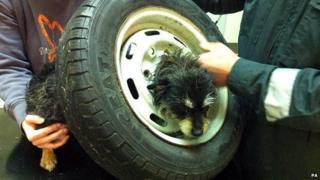 PA
Tinks the terrier has recovered after getting her head stuck in a car's spare wheel.
Hampshire Fire and Rescue Service received a call after the eight-year-old dog got into difficulty in a stable yard.
An animal rescue specialist tried to free Tinks but she wouldn't budge - so she had to be freed by a vet.
The good news is that Tinks has made a full recovery since her ordeal earlier this month.
Her owner has now removed the spare wheel so it doesn't happen again.