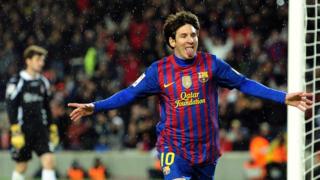 Messi - I want to get even better
Lionel Messi feels he can improve even more on his already brilliant form.
Speaking to CBBC's Match of the Day Kickabout, Messi said he still wants to improve on certain aspects of his game.
He said: "I just try to keep growing and learning, and I don't want to stop developing and improving. At the end of the day, that's what matters."
The star striker feels he can get better, despite breaking Barcelona's all-time goalscoring record on Tuesday with his 54th strike of the season.
Read more from the interview here:
Catch the whole interview with the Argentine maestro on Match of the Day Kickabout, Saturday, 24 March, at 7.40am on the CBBC channel; and 11.40am on BBC Two.