Newsround's special programme about living with autism has won Best Children's Programme at the 2012 Royal Television Society awards.
My Autism and Me looks at what it's like to live with autism, a condition that affects the way you live your life and see the world around you.
Rosie, the film's presenter, was at the awards party to pick up the trophy.
Rosie was born with autism, and says even though living with it is hard, it makes her unique and who she is.
You can watch the whole programme using the player above, and follow the links on the left of the page to find out more about autism.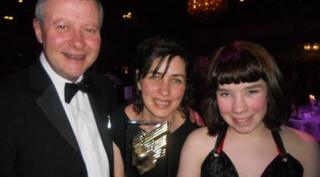 (C) British Broadcasting Corporation
Other winners on the night were Tracy Beaker Returns for best children's drama, and Ant and Dec for best entertainment performance, for ITV1's I'm A Celebrity... Get Me Out Of Here, Red Or Black, Push The Button and Britain's Got Talent.