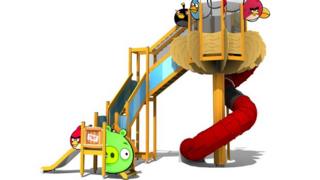 Other
Angry Birds are heading to the playground with themed activity parks set to be built around the world.
The game's the most popular paid-for mobile app of all time and the parks will include interactive content and downloads.
The first will be built this summer in Finland in northern Europe and then others will follow here in the UK.
The creators hope the park will encourage Angry Birds fans to take part in more physical activity.
An unofficial Angry Birds park opened in China last year, but the new parks are being made with the game's maker.