Lionel Messi feels he can improve even more on his already brilliant form.
Speaking to CBBC's Match of the Day Kickabout, Messi said he still wants to improve on certain aspects of his game.
He said: "I just try to keep growing and learning, and I don't want to stop developing and improving. At the end of the day, that's what matters."
The star striker feels he can get better, despite breaking Barcelona's all-time goalscoring record on Tuesday with his 54th strike of the season.
Messi scored a hat-trick in Barca's 5-3 win over Granada, his eighth of the season, taking his overall total to 234 goals in eight seasons at the Nou Camp.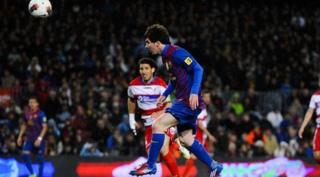 Getty Images
Messi broke the 60-year-old record of Cesar Rodriguez and has now also overtaken former Manchester United star Cristiano Ronaldo as the top scorer in La Liga this season.
The secret of the 'Holy Trinity'
He's now scored more than 40 goals in each of the last three seasons but says he doesn't see himself as the boss of the team.
He paid tribute to team-mates Xavi and Andres Iniesta, saying: "The truth is we have a good relationship among the three of us, among the whole team.
"It's very easy to get along with them both, because they are very normal, down-to-earth people. And the truth is there is no boss, no one person in charge, we all get along."
Messi also revealed one of the secrets of his success - his mum's steak sandwiches.
He said: "I don't know if it's the best one, but I do like the way she makes it. I've always said that, and yeah, it's one of my favourite meals."
Catch the whole interview with the Argentine maestro on Match of the Day Kickabout, Saturday 24 March, at 7.40am on the CBBC channel; and 11.40am on BBC Two.
Watch part one of the interview here: I admire Aguero, Rooney - Messi