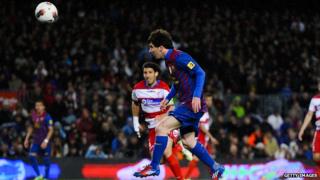 Getty Images
Footballing legend Lionel Messi has broken Barcelona's 60-year-old goal-scoring record after his latest hat-trick.
With his third goal against Granada at the Nou Camp on Tuesday, the Argentine reached 234 goals for his Spanish club.
The previous record was held by Cesar Rodriquez from back in the 1950s!
Messi, the World Player of the Year and spending his eighth season with Barca, has now scored 54 goals in all competitions this season.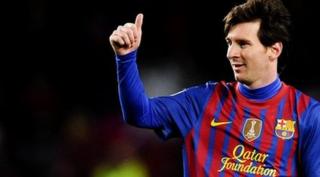 Getty Images
'Great goals'
He's the top scorer in La Liga, the Spanish equivalent of the Premier League, and is two ahead of Real Madrid's Cristiano Ronaldo.
"We have to congratulate Messi, he has scored so many goals and is only 24," said his boss Pep Guardiola.
"He does not just score ordinary goals but great goals and we hope he gets lots more for us."
Don't miss MOTD Kickabout on Saturday 24 March when Paz and Bez bring us the second part of their chat with Lionel Messi. It's on CBBC at 7.40am and on BBC Two at 11.40am.