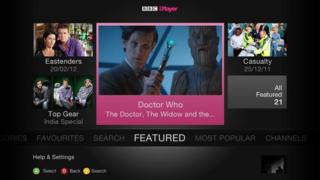 BBC iPlayer is now available totally free on your Xbox 360.
And better still, if you have Xbox Kinect you can control the iPlayer by moving your hands or using your voice.
It's taken three years for it to be available on the games console after Microsoft originally wanted to charge for the content.
You better have a good internet connection though because you can only stream the programmes rather than download them.
Last year iPlayer was used 433 million times on a TV, rather than on a computer, and the BBC think this number will keep increasing.
The head of BBC iPlayer, Dave Price, thinks this is because a lot of games consoles are in the living room and connected to the TV.
The iPlayer launched in 2007 and was one of the first TV catch-up services available.