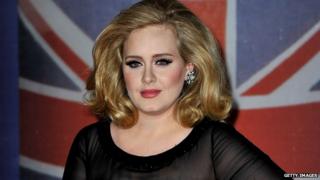 Getty Images
Adele's second album 21 is now the seventh best-selling album of all time.
Selling more than four million copies, it's overtaken some timeless rock and pop classic albums.
If Adele shifts another 12,000 copies, it'll go up to sixth position.
If it makes it to fifth, she'll beat Michael Jackson's famous Thriller album which sold over 4,200,000 copies.
The figures have been released by the Official Charts Company.
The top 10 biggest-selling albums in the UK are:
1 - Greatest Hits - Queen - 5,864,000 copies sold.
2 - Sgt Pepper's Lonely Hearts Club Band - The Beatles - 5,045,000
3 - Gold: Greatest Hits - ABBA - 4,992,000
4 - (What's The Story) Morning Glory? - Oasis - 4,520,000
5 - Thriller - Michael Jackson - 4,272,000
6 - Brothers In Arms - Dire Straits - 4,154,000
7 - 21 - Adele - 4,142,000
8 - The Dark Side Of The Moon - Pink Floyd - 4,116,000
9 - Bad - Michael Jackson - 3,960,000
10 - Greatest Hits II - Queen - 3,888,000