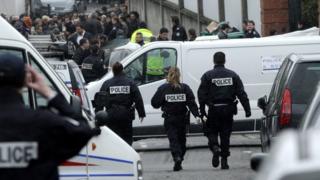 Reuters
A man riding a scooter has fired shots at a Jewish school in the French city of Toulouse, police say.
A teacher and three children are said to have died in the attack, according to reporters in France.
A teenage boy was also seriously injured.
The French president, Nicolas Sarkozy has gone to the scene. He said "the French Republic as a whole has been hit by this appalling tragedy".
Attacks near schools like this are extremely rare. That's why it has been such a shock.
If you're worried or upset by the news, take a look at the link on our home page: "It's OK to be upset by the news".