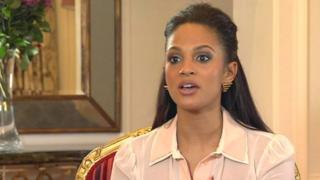 Domestic violence 'every child's nightmare'
Alesha Dixon has been speaking about experiencing domestic violence when she was a child.
She describes how, aged seven, she saw her mum abused by a violent partner, for three years.
She says: "When you see the person you love most in the world being hurt like that... It's horrific, I think it's every child's nightmare."
Alesha was speaking to Newsround for Behind Closed Doors, a special programme about domestic violence.
The programme also hears from one of London's top police officers, Chief Superintendant John Sutherland - who says domestic violence is "the single greatest cause of harm that we have in our time".
Behind Closed Doors - A Newsround Special is on BBC One on Monday 19 March at 5pm.