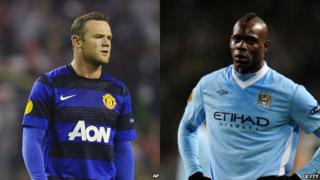 Other
There was heartbreak in Manchester as both City and United crashed out of the Europa League.
Man City came from 2-0 behind to win the match against Sport Lisbon 3-2, but they still got knocked out on away goals after losing the first leg 1-0.
"I'm disappointed because I might have made mistakes, and I'm sorry to the supporters," said City manager Mancini.
Meanwhile United's 2-1 defeat meant they were knocked out 5-3 on aggregate by Athletic Bilbao.
City need to win the Premier League to avoid a trophy-less season.
But United, who currently have a one point advantage over them, have their eye on the top prize too.
"If we want to save the season we have to win the league," said United player Patrice Evra.
Mancini has already picked out the derby match between the two sides, to be played at City's Etihad Stadium at the end of April, as the title-decider.