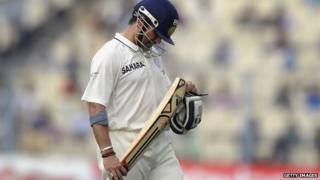 Getty Images
Indian cricketer Sachin Tendulkar has finally scored his record-breaking 100th international hundred during a one-day match against Bangladesh.
It's been a long time coming - millions of cricket fans waited for a whole year for him to complete the feat.
Tendulkar also holds the record for scoring more Test and one-day runs than anyone else in history.
Now, he's got 51 Test centuries and 49 hundreds in the one-day version of the game.
After he was out for 114, he said that he wasn't really thinking about getting the record, adding: "It hasn't sunk in."
England captain Andrew Strauss said that it was "an amazing achievement... it's unlikely to be achieved again."
Tendulkar's incredible career started way back in 1989, when he was just 16-years-old - and he scored his first Test century just a year later, against England at Old Trafford.