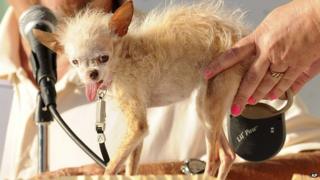 AP
The owner of the "world's ugliest dog" has said that her pet died in its sleep, aged 15, on Saturday.
Yoda the dog became famous when she won the World's Ugliest Dog contest in California last year.
When Terry Schumacher found Yoda behind an apartment building, she initially mistook the abandoned dog for a rat.
She had short tufts of hair, a sticking out tongue and skinny bald legs, but Yoda went on to win a $1000 (£638) prize for her strange looks.
After the competition Yoda appeared on TV and even featured in a makeover show.
Terry says she will miss Yoda's "funny little ways" but she is "comforted knowing she will be joining my Mom and Dad who loved her so much. Her memories will live on forever."